Lomelda: Presented by T/F Music w/ Rae Fitzgerald and TBA
January 16 @ 8:00 pm

-

11:59 pm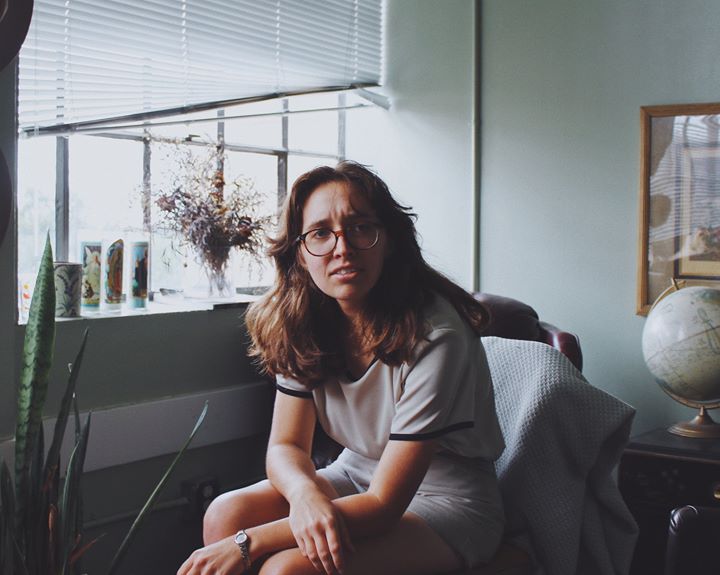 $6 Presale Tickets on sale now:
lomeldaatcafeb.eventbrite.com
True/False Music Presents:
Lomelda
LISTEN > https://lomelda.bandcamp.com/
Lomelda released "Thx" in September on Double Double Whammy (Frankie Cosmos, Florist, Hovvdy, LVL UP), followed by tours with Florist and Pinegrove, and an upcoming tour this winter with Snail Mail.
Stereogum named Lomelda as one of 40 Best New Bands of 2017.
"Hannah Read has written and performed as Lomelda for most of her musical life. The project has been her outlet from the slow, shaggy days in her east Texas hometown of Silsbee, through moves to Waco and Austin, and into her wandering present. Her music is textural and spacious. Her words are suggestive snapshots of loosely knitted observations, depicting quiet moments between friends and lovers and half-remembered celestial occurrences. In her songs, the memory of the past and glimpses of future stretch out on either side of you, and the present is unsteady and always shifting." –Double Double Whammy
"If you were to ask Hannah Read what Lomelda means, you'd probably end up with some kind of non-answer and a new topic. It is a guarded secret reserved for those who really pry. It is a high school attempt at describing something vast and powerful yet uniquely quiet and complex. And it is ever-changing. Lomelda is about memory, intimacy, and the tragedies of distance. As a band, it has appeared in several forms over the years, but always, to Hannah, Lomelda has been about discovering friendship and connection. Close collaborators have become closer friends. And when you see Lomelda, when you hear it, it is apparent that Hannah cares deeply about the connection made with the people on stage, the connection with you.
by life long lomelda pals, Andrew & Lindsey Hulett"
— Ground Control Touring
Rae Fitzgerald (como)
LISTEN > https://raefitzgerald.bandcamp.com/
"Columbia, Missouri artist Rae Fitzgerald brings an organic and emotional sound to the table that fans of acts like Daughter and Julien Baker will likely find engrossing. Amidst slow-burning, guitar-driven heart-wrenchers and the occasional addition of equally mellow electronic beats, Fitzgerald wears her heart on her sleeve and pours a truly authentic passion into her creations. It's evident in every track on [her latest album] as she works through her dreamy and often-somber narratives about all things life and love."
-Substream Magazine
Rae Fitzgerald has shared bills with Palehound, Margaret Glaspy and Patrick Haggerty's Lavender Country, as well as played at True/False Film Festival, SXSW, and Daytrotter.
w/ TBA
———————————————————-
CAFE BERLIN
DOORS 8PM / MUSIC 9PM
$6 PRESALE / $8 DOS
http://www.cafeberlincomo.com/
https://twitter.com/cafeberlin
https://www.facebook.com/cafeberlincomo
https://instagram.com/cafeberlincomo/
No Replies to "Lomelda: Presented by T/F Music w/ Rae Fitzgerald and TBA"
---